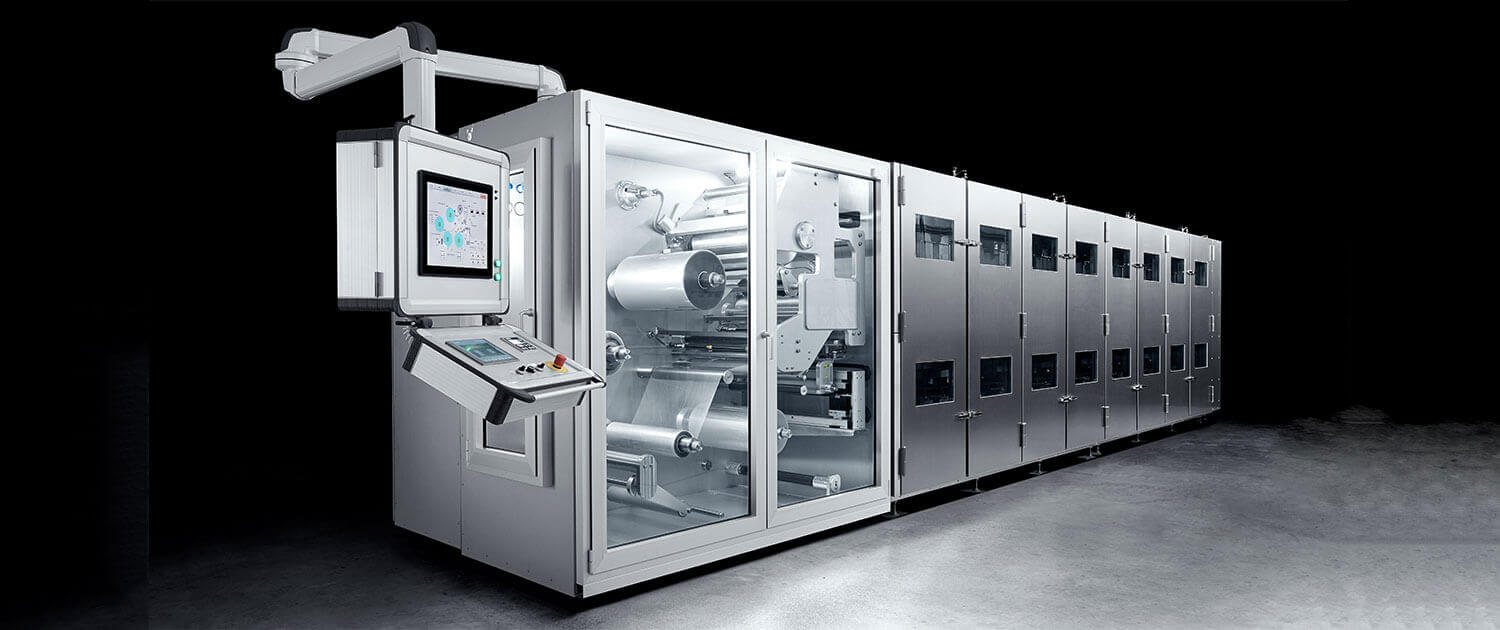 1
Our production machines run fully automated and only controlled by the touch screen HMI. Due to the swing comfort panel you can operate it from any point of the machine.
2
Our production machines are offered in 4 current foil widths: 460mm, 480mm, 540mm and 1200mm.
The foil width is choosen to match the subsequent converting process.
3
Our ultra-precise coating system will guarantee that you always have the exact dosis of your active pharmaceutical ingredient in your product and that you will always meet U.S. FDA standards. Especially when it comes to high potent drugs.
4
Our inline dry thickness measurement system carries out the quality inspection and testing while you can focus on producing your medicaments.
5
Our inline slitting unit saves the investment of an additional slitting machine and saves one additional manufacturing step.
6
Our dryer is designed in a modular way. You can freely choose between: 2 drying zones, 4 drying zones, 6 drying zones, 8 drying zones, 10 drying zones and  12 drying zones.
The drying zones determine the production outputs and at the same time it adapts to your space in the production area. Due to very good insulation of the dryer, you face lower energy costs than comparable dryers. Since the dryer is designed in a u-turn manner, operating costs will be minimized.
Commercial production coating machine PA 460/480mm
Application
The PA 460/ 480 coating machine is intended for a medium volume production of transdermal therapeutic delivery system laminates (skin patches) as well as to create edible films/ oral dissolvable film (mouth drug film/ strips) bulk ware without any further modification. With an easily movable control touch panel, you can set the machines parameters and control the whole coating process. The coating system, built up of an ultra-precise coating knife, is suited to coating widths between 30 – 440mm and 30 – 460mm.
Efficient
The PA460/ 480 machine has more efficient production capacity by comparison of Pilot scale and Mid-size production machine. Additionally, you can also add dryer modules to increase your production volumes. The longer the dryer, the higher the output rate. OPTIMAGS dryers are assembled of identical modules.
Full-automatic
The commercial production model is fully automated in addition to high efficiency. Therefore, all of our commercial production equipments can be controlled by one person and all the operation are implemented by panel.
Custom-made

With its main purpose to tailor your company's specific needs, we offer you a wide range of accessories. Seeing that, you can make full use of the equipment to meet your ongoing requirement.
Safety
Nothing is more important than safty. With its main purpose to protect workers from danger, gas sensors are installed respectively in dryer zone. With that, the concentration of gaseous solvents is detected at the input of the exhaust fan. When the concentration trespass the first level, the system will give an alarm via a siren to the controlling staff. When it trespasses critical level, all functions will stop working. Gas sensors are the masters of the machine.
Space-saving design
As the patented dryer technique permits a vertical u-shaped web path inside the dryer. In the light of the compact instructure, it takes up less space: the machinery compartment on its left side containing the ultraprecise coating system and all further web handling components, while the right side is composed of the drying unit(s). That suggest that, it takes up only one third of footprint compared to that of conventional machines. At the same time it reduces operating costs. This is attributed to our dryer isolation design, which makes the best of energy and keep your working environment neat and tidy.
User friendly
It's worth mentioning that there is no complicated operation in our touch panel. Instead of that, you can see the visualization of each coil and stop it just by touching. In terms of safety, this elegant design can reduce the possibility of misoperation. Meanwhile, the the training costs will be reduced with the intuitive operation. Other than that, the position and angle of the panel can be adjusted. That is to conclude, you can do the complete operation without moving. Thus ease the workload. Moreover, the software of the machine includes recipe databank and complies with 21CFR11. That prevents unauthorized persons from entering the system to access electronic records, change and delete electronic records and electronic signatures.
Basic components of machinery compartment standard equipment:
Three unwinders:

Wind a carrier foil off: to be coated for the substrate
Unwind the covering/ protective foil/ backing foil
Optional unwinder for membrane

Ultra-precise pump: For precisely feeding the coating fluid into the coater units
Optimags patented coating system: A modified dye coater for ultraprecise fluid spreading
Maximum three rewinders:

A single or two rewinders is/ are devoted to rewind the final bulkware
Optional: Further one in a move to rewind arising scrap foil

Dryer: Patented air circulated oven consisting of up to 12 individual sections/ modules strung together with an intermediate u-shaped module. Each module contains an upper and a lower dryer zone with individually adjustable temperature and air flow rate.
Machine control: Siemens S7 PLC, WIN 10 based Human-Machine-Interface (HMI), software includes recipe databank and complies with 21CFR11.
PA 460/ 480 Technical specifications
| Dryer length | Dimensions LxWxH [m] | Weight [t] | Power supply @ 400V, max. | Coating speed [m/min] | Sections/ zones | Web path geometry through dryer/ Web path length inside the dryer [m] |
| --- | --- | --- | --- | --- | --- | --- |
| 4,7m | 4,4 x 2,0 x 2,5 | 4,4 | 74 | 1 | 2 | U-shaped/ 4,7 |
| 8,5m | 6,0 x2,0 x 2,5 | 5,7 | 102 | 3,5 | 4 | U-shaped/ 8,5 |
| 16m | 8,4 x 2,0 x 2,5 | 8,3 | 158 | 6 | 8 | U-shaped/ 16 |
| 22m | 10,9 x 2,0 x 2,5 | 9,6 | 214 | 8 | 12 | U-shaped/ 22 |
PA 460/ 480 General technical specifications
Foils
Provided as 3" core – coils
Type of handable foils/ webs/ substrates
PET , PP, PVC , paper, non wovens, textiles, …

Thickness limitations
> 23 µm for foils
> 80 g/m2 for non wovens, textiles, and paper
Characteristics of foil
Release liner, membranes : Non- elastic,
Backings : Non- elastic/ uniaxially elastic

Foil width
460 mm resp. 480 mm
Foil coil diameter, maximum
– Release liner: 500 mm
– Membrane : 300 mm
– Backing : 400 mm

Coatable fluids
Fed in by dedicated ultra presice pump (s)
Rheology
– Newtonian fluids
– Slightly thixotropic fluids

Viscosity (static)
0,1 – 70 Pas
Coating system
– Patented knife coating system: Modified dye
coating system for fluids of viscosity < 7 Pas achieved dry thickness variation: +/- 1,5 µm - Doctor Blade: Knife over roll coating system for fluids of viscosity < 70 Pas achieved dry thickness variation: +/- 3,5 µm - Oil coating system: For precise loading of membrane with oil: load >/= 10 g/m2

Accepted solvents
Water, Ethanol, Ethylacetate,
n-Hexane, n-Heptane, THF,…
Coating thickness
40-1000 µm ( dried film )
Coating speed
0.3 – 10 m/ min ( depending on dryer length, refer to the table above)
Generated/ Final product
ODF: 2 layer , TDS bulks/ laminates: 3- 5 layer
Measure of film thickness
– Wet film thickness: Fibreoptical sensor DIG 100
– Dry film thickness: Traversing IR sensor NIR
Dryer
Patented, modul of u-shaped air oven
Heat supply
Air, HEPA filtered and preheated in own a.h.u.
requested fresh air in , max. 3300 Nm3/ h

Heating in each zone
Electrically from RT -125°C, variance +/- 10C
Temperature control
By calibrated PT-100 sensor within each dryer
Recirculating air flow rate in each zone
100 – 1.100 Nm3/h
Solvent level control/ alarm
Gas sensors in each dryer zone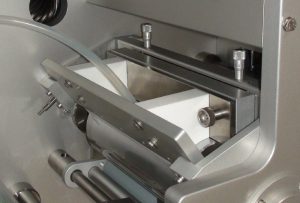 For the manufacturing of matrix patches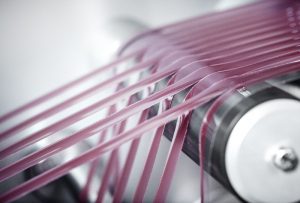 To create inline daughter coils from the primary coil
Wet thickness sensor, DIG 100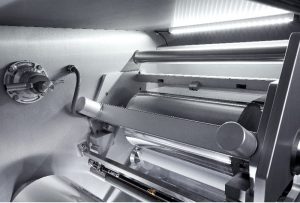 Optical measeurement of wet film thickness right after coating
Dry thickness sensor, NIR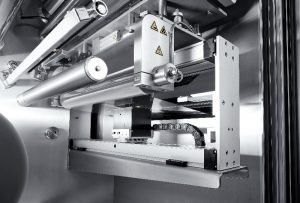 Optical measeurement of dry film thickness with traversing thickness sensor NIR
Optimags GmbH
Dr. Zimmermann
Am Hubengut 8
76149 Karlsruhe
Germany
Phone +49 721 35 285 0
Fax +49 721 35 285 28
c.zimmermann@optimags.de