Our mid size production coating machine series bridges the output gap between the pilot scale machines and the commercial production machines. The setup of the machine is similar to the commercial production machines. Thus an easy scale up is possible while you can still place the machines in your lab.
In the same manner as for the production machines additional units can be integrated in the machine to increase productivity and to handle more complex products:
Slitting unit: saves one production step since the slitting into daughter coils is done inline.
Doctor blade: coating of high viscous fluids
Web storage system: allows 24/7 production without stopping the machine
tensionless unwinder: allows to work with elastic backing materials, textiles when producing patches
This model allows middle sized production volumes but can be used as well as for small volume productions or to produce clinical samples. The software regulates besides batch documentation, the dosing of the pump, the web speed and the temperature in the individual drying zones. It can be optionally ordered with 21 CFR part11 complying user managment.
You plan to produce complex multi-layer patches?
You plan to produce ODF strips in an efficient way and to save one manufacturing step at the same time?
Dimensions LxWxH
2160 mm x 1071 mm x 1400 mm
Weight
~ 1100 kg
Power supply
400 V, 50…60 Hz, 6000 W, 3P5W
Substrates/web
– Non-elastic foils, paper, non-elastic textiles,
– Thickness: 23…75 µm
– web width = 250 mm
– core diameter: 3"

Covering/backing foil
– Non-elastic foils, paper, non-elastic textiles,
– Thickness: 23…75 µm
– web width = 250 mm
– core diameter: 3"
Generated laminate
– Non-elastic foils, paper, non-elastic textiles,
– Thickness: 23…75 µm
– web width = 250 mm
– core diameter: 3"
Coating fluids
Newtonian solutions, dispersions
Viscosity: 0,1…7 Pas

Coating width
10…230 mm
Coating thickness
40…1000 µm (wet)
Coating accuracy
+/- 1,5 µm for a 100 µm dry PSA coating
Coating speed
0,01…0,8 m/min
Rewinding speed
0,01…3 m/min
Dryer
Standard: Temperature [°C]: 20…105 +/- 0,5
Optional: Temperature [°C]: 20…120 +/- 0,5
PT100-controlled
Digital temperature display
Dryer length: 3.400 mm
Drying time: depending on coating solution

Multi-channel coating knife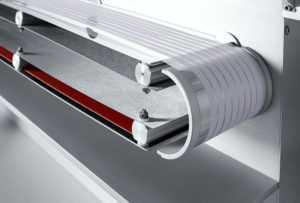 For coatings with different patterns next to each other; needs an extra pumping unit TGP 1.3